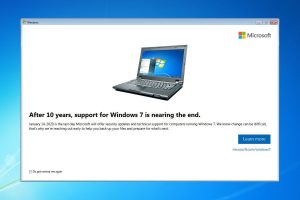 If you are using Windows 7, you may have noted a screen coming up saying support will end in 2020. What does this mean for you?
It will mean there will be no further windows updates for the operating system. This will mean that the system will still continue to function, and if you continue to use it, then you should have a good third party antivirus/firewall solution, such as Bullguard installed.
Most people prefer Windows 7 to Windows 10, however Microsoft are pushing users to upgrade, and this is another way of them to do so. It might be time to bite the bullet and change up to Windows 10.
Can I upgrade for free? If you have a genuine activated copy of Windows 7, you can upgrade to 10 for no cost, other than having someone do it for you, or you do it yourself. We can supply a copy of an upgrade disk for a small fee, and you could do it yourself. We can also do it for you. It is a good idea to backup your files before doing the upgrade, in case something goes wrong!